Ironhide Vacuum Distillation System (IVD)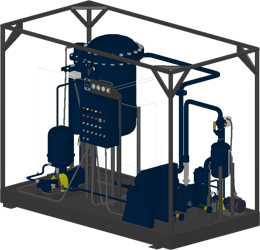 The Ironhide Vacuum Distillation System (IVD) is used to dehydrate, degasify, and purify industrial fluids of all types. The IVD uses vacuum, heat, and particulate filtration to purify fluids by removing solid particulates via a barrier filter, removing 100% of dissolved, entrained, emusfiled water down to 10 wppm or less, and entrained gases. The IVD restores the flashpoint and the viscosity of the oil to as-new or better conditions. The IVD reduces downtime, improves longevity of the fluid and the equipment the fluid protects, and lowers downtime of equipment by reducing maintenance. The IVD can be customized to purify in batch (Kidney loop) or process (continuous) modes. This system is driven completely by the onboard PLC and can be easily integrated into existing plant operations.
Features
Removes all free, emulsified, and dissolved water down to less than five parts per million (ppm) total water.
Removes dissolved and entrained gases.
Removes solids larger than 1 µm.
Restores flash point and viscosity to like new or better conditions.
Applications
Transformer Oil
Hydraulic Oil
Turbine Oil
Lubrication Oil
Transmission Oil
Vegetable Oil
Industrial Oils
Waste Oils
Water Removal
Less than 10 ppm
Purification
Down to 1 micron
Flow Rates
1GPM - 30+ GPM
Power Voltage
220 V / 60 Hz / 1 or 3 Phase
380 V / 50 Hz / 3 Phase
480 V / 60 Hz / 3 Phase
Temperature
80 ° F - 250 ° F
Pressure
50 PSI - 300 PSI
Options
ASME U Stamped Vessels
Single Pass Operability
Local or remote control panel
Explosion proof rated electronics
Process or Batch mode design and operations
Stand alone and portable models available